Apricot, it was, from fruit my mum harvested from her tree…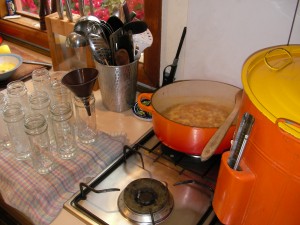 I used an American recipe, which called for less sugar, and then said to use water-bath canning to preserve the jam. I'd always just made jam the good ole Aussie way – equal parts fruit & sugar, cook to buggery and then ladle into sterile jars, screw on the tops and hope it vaccum seals… This was a new experience! And a good one. We now have apricot jam that you can actually taste the apricots in, rather than the sugar ruling the flavour. Yum!
And then I must have snapped and lost my tiny mind in some way, because I made: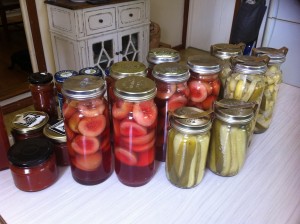 L-R: tomato relish, canned nectarines, pickled zucchini (in tall jars at the back), and in front of them are dill pickles (cucumbers!). All but the tomatoes were from our garden, and were sitting gradually subsiding on our kitchen table, causing me anguish and guilt. There. Take that, produce avalanche!!
Of course, I also did it in the week that school went back for Girlchild, and I had school supplies to get for Boychild, and there were eleventy million other things to do… and did I mention that it was HOT? Well it was. So I canned at night, and muttered about the heat and humidity and did prep work for it all during the day, and sat watching the Vacola canner burble away into the night, wishing that my kitchen came with built-in foot masseur. (Perhaps I should put it on the list for the one-day upgrade?)